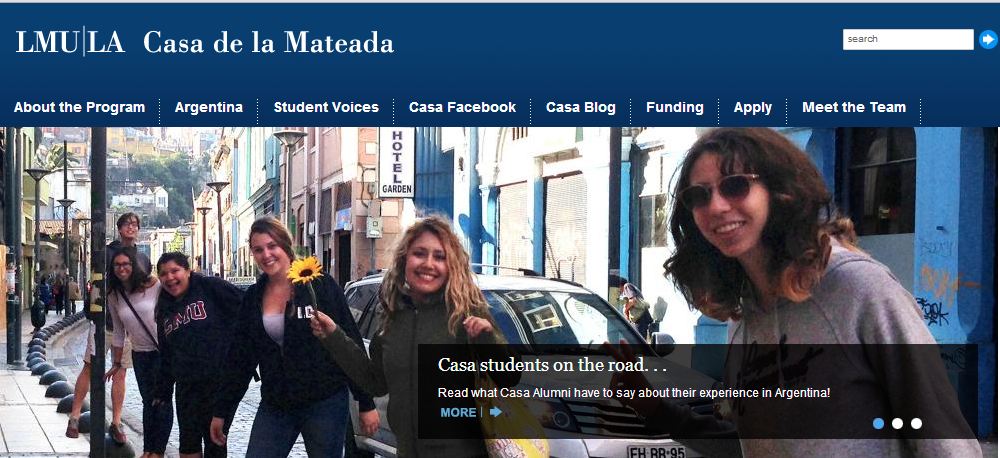 Casa de la Mateada is a different kind of study abroad experience. It offers a rare and exciting opportunity for students to experience praxis, community living, critical analysis and reflection, and spiritual formation in the dynamic city of Córdoba, Argentina. Offered in partnership between Loyola Marymount University, Los Angeles (LMU) and the Universidad Católica de Córdoba (UCC), this program reflects and embodies the Jesuit values at the heart of these two universities. Especially important is the Ignatian ideal of a "well-educated solidarity," a concept students in the program engage on many different levels--from the types of courses offered, to the intimate setting in which they are housed, and to the direct way they engage the Argentine communities with whom they work. Students spend a semester immersing themselves in the rich and complex cultural, social, political and historical realities of Argentina, learning to accompany those living on the margins, while also being challenged to grow and develop as persons for others.

Paseos or short excursions are woven into the fabric of the Casa program. During the course of the semester, students will have an opportunity to encounter places in and around Córdoba that provide insight into the social, political, cultural and spiritual reality of Argentina. For example: the Jesuit Estancia and Che Guevara museum in Alta Gracia; the annual folkloric festival in Cosquin; "La Perla"—the former clandestine detention center from the period of 'La Dictatura'—now a 'site of memory' Alla Arriba, the retreat center in the mountains above La Falda where students will stay for their silent retreat; Paseo de los Artes, a weekly gathering of artists, craftspersons and musicians near La Cañada in central Córdoba; and occasional hiking trips out to Las Sierras Chicas (La Bolsa, Agua de Oro).

Argentina is a beautiful and geographically diverse country that offers many opportunities for exploring its breathtaking nature and cosmopolitan cities. The country combines Latin American and European traditions into a distinctive, edgy and captivating culture. With so much to explore throughout Argentina and its neighboring countries, you won't want to leave!

Check out the Casa Website for more indepth information!

Spring 2015 Course Offerings
PHIL/THST 398 The Practice of Everyday life
(3 units + 1 unit fieldwork)
This course fulfills the faith and reason core requirement. This course may also be used as an upper division elective in Philosophy or Theology.

PSYC/SOCL 398 Culture, Power and Research Methods in the Social Sciences (3 units + 1 unit fieldwork)
This course may be used as an upper division elective in Psychology or Sociology.
SPAN 398/FNLT 398 Argentina: Culture, Language, and Literature
(3 units plus 1-unit fieldwork)
Upper division elective.
This course may be used towards an upper division elective in Spanish or Foreign Literature in Translation (FNLT).
NOTE: If students are at a less advanced level of Spanish, an appropriate Spanish course (Spanish 198) may be offered as needed. This course is graded Credit/No Credit only. Completion of SPAN 102 or the equivalent is required or consent of the instructor.
POLS/ECON 398 Poverty in Comparative Perspective
(3 units plus 1-unit fieldwork)
The course fulfills LMU Core Explorations requirement in Understanding Human Behavior as well as an engaged learning flag.
THST 398 Sacred Place
(3 units plus 1-unit fieldwork)
The course fulfills LMU Core Integrations requirement in Interdisciplinary Connections
LIBA 398 Praxis Seminar
(1 unit)
A weekly seminar providing a space for student reflection, problem-solving, logistical coordination, and integration of praxis site experiences with their life experience. Videos, readings, and guided discussions will also be used in the seminar.
* While the language of instruction is English, we recommend that participating students have conversational spanish (completed 2 semesters of Begining Spanish or equivalent) in order to participate in praxis community life. Spanish language abilities will greatly aid in the immersion aspects of this program and as part of the required course load students will take the Spanish electiver course at the appropriate level. Students are also strongly encouraged to take Spanish language courses at LMU prior to departure or to enroll in online courses.